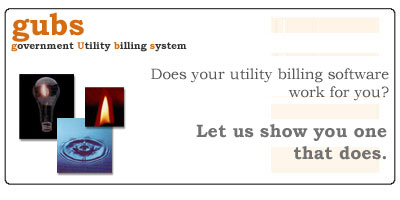 Take control of your utility billing now with the newest, most powerful Utility Billing and Account Receivable Management System.
| | |
| --- | --- |
| Utility BIlling | Accounts Reveivable |
| AMR Integration | Work Order Management |
| Flexible Reporting | Web Based Access |
FEATURES:
Unlimited number of billing services:
(water, sewer, electric, gas, fire, refuse, cable...)
User defined and unlimited rate structures.
User defined & customizable fields, screens and forms.
(bills, delinquent notices, shut-off notices, lien notices)
Flexible and powerful report writer
Graphical user interface and client-server technology.
Open arthitecture database. Compatible with most popular office automation software.
Secure internet customer account inquiry.
Electronic bill presentment and payment.
BENEFITS:
ROBUST BILLING MODULE
integrates with all modes of usage data collection (probe, Mobile RF, In/Out Bound telephone); bills multiple services based on usage or flat rate. Customizable bill formats and optional email billing.
ACCOUNTS RECEIVABLE AND COLLECTION
Accommodates a variety of automated payment methods such as barcode scanning and lock box processing. Payment methods include credit card, internet and electronic check. Processes per diem or static interest and panalty calculation as well as security deposits, installment agreements, payment plans, budget billing and bankruptcy tracking.
WORK ORDERS, SERVICE CALLS & MISCELLANEOUS BILLING
Log service calls, print work orders, and monitor their status. Service call database history allows forecasting of potential service problems.
PRODUCE ON-DEMAND REPORT
Powerful reporting engine with User defined filters. View reports on screen, paper or email.
CUSTOMER SERVICE INQUIRY SCREENS
Flixilbe, user defined inquiry screens showing customer demographic, unpaid charge detail, unlimited transaction history with summary and detail drildown capability, meter information, unlimited narratives, open and closed work orders, etc.